Now accessible in India, Twitter Blue costs Rs 900 per month for mobile devices and Rs 650 per month for the web. Moreover, the social media platform is providing a discounted annual package for Rs 6800 or Rs 567 per month.
Twitter's Pay-For-Blue-Tick subscription service, TwitterBlue, has officially debuted in India. Twitter Blue is one of the most expensive memberships in India due to the costs associated with it. Before introducing Twitter Blue in India, according to Twitter CEO Elon Musk, the business will take buying power parities (PPPs) into account.
It hasn't happened, though. TwitterBlue is significantly more expensive than Netflix on a monthly basis, making it one of the most expensive recurring subscriptions available in the country for many consumers, especially when compared to Netflix's rivals, who typically price between Rs 999 and Rs 1499 per year.
Twitter Blue Charges: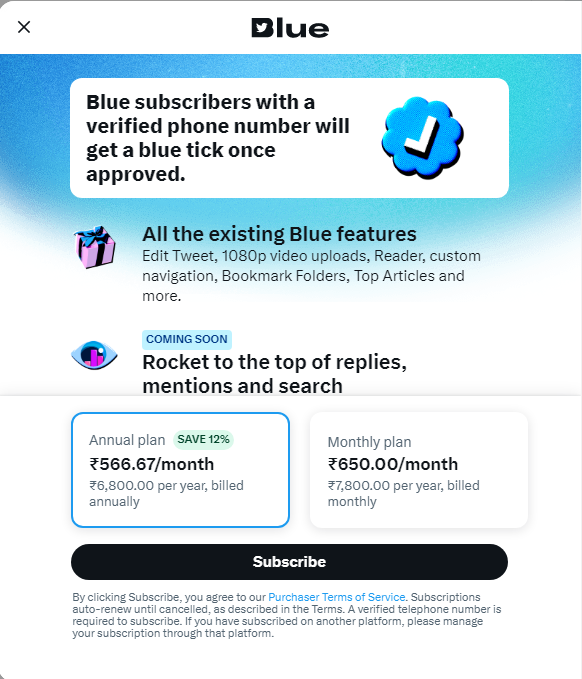 For those who use it through the Twitter website on their desktops, laptops, or the Safari browser on their Macs, the business has announced a new subscription at a cost of Rs 650 per month.
However, users must pay Rs 900 on both Android and iOS to sign up using the mobile app, which is how the majority of people access Twitter anyhow.
For those who sign up on the internet for an entire year, the business is providing a discounted rate. Users would have to pay Rs 6,800 if they opted to pay for their Twitter Blue subscription annually.
Subscribing to Twitter Blue: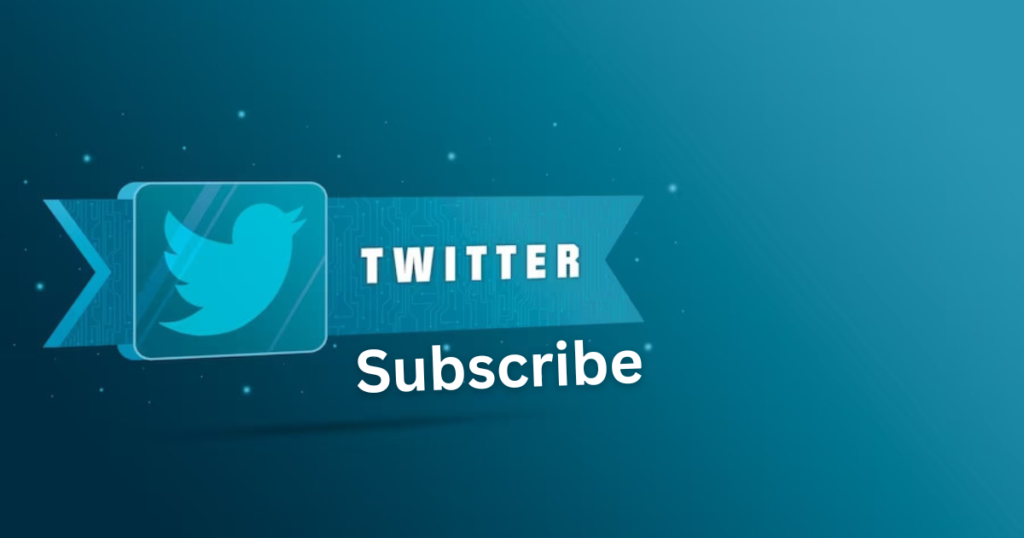 Users must open the app on their mobile Android and iOS smartphones and slide right to view the menu. They will find the "TwitterBlue" option there. After users click it, Twitter will direct them to a page where they must enter their information, pay Rs 900, and wait for their cell number to be confirmed.
It follows a similar method on a desktop. After logging in, select "TwitterBlue" from the left-hand column of your profile. You can select your desired plan from a pop-up before completing the payment. Only the website will have access to the annual plan.
Benefits of Twitter Blue:
Users will have access to a ton of cool features if they choose to subscribe to TwitterBlue. Users can update your tweets for up to 30 minutes after posting them in addition to seeing a verified blue check on your profile. Twitter gives TwitterBlue users priority in "replies," "mentions," and "search."
You can also link your NFT wallet and set your NFT as your profile picture if you hold NFTs. New features are also made available to TwitterBlue subscribers as soon as they are released.
Longer videos in 1080p quality can be uploaded by content producers that want to post videos on the site.
What is Elon Musk's promise of Purchasing Power Parity?
Elon Musk said that the purchasing power parity of the nation will decide regional rates when TwitterBlue was first introduced in November. That doesn't seem to be the situation. Twitter's monthly membership to Twitter Blue costs customers in the US $8 (website). This is about 660 rupees. The price of a subscription for Android and iOS is $11, which is equivalent to Rs 910.
Also, Search by People
What is the point of Twitter Blue?
Blue subscribers can tweet up to 4,000 characters with longer Tweets. Longer Tweets can also be composed as a quote tweet or reply. Using hashtags, polling, and sharing media are all still standard functions. Longer Tweets can only be sent by Blue subscribers; however, everyone will be able to view them.
Is it worth getting Twitter Blue?
Is Twitter Blue a good investment? It varies. Because they might not use all of the capabilities offered by a monthly membership, casual Twitter users might not see the benefit of doing so. Since they use the app more frequently, super-users or brand accounts may find Twitter Blue's capabilities to be more helpful.
How can I get blue Twitter in India?
With a monthly fee of Rs 650 on the web and Rs 900 on mobile devices, TwitterBlue is accessible in India. Moreover, the microblogging service provides a cheap annual plan for Rs 6,800 or Rs 566.67 per month.
How do I activate Twitter Blue?
It's easy to subscribe to Twitter Blue.
·         Open the Twitter mobile app on your iOS device.
·         Navigate to the Profile menu.
·         Tap Twitter Blue.
·         Tap the blue Subscribe for $/mo button.
·         Follow the in-app payment prompts to complete your purchase.
What countries is Twitter Blue in?
TwitterBlue subscription is also available in the US, UK, Canada, Australia, New Zealand, Japan, Saudi Arabia, France, Germany, Italy, Portugal, and Spain.