What Is Screen Recording Software?
With the help of Screen recording software, you can record your activity on your computer or mobile screen.
To assist people in learning what to do and how to do it, the recorder can capture everything from your taps and mouse movements to input a URL into your browser.
In some cases, a tool's bundle will additionally include audio narration and annotation.
Yet every screen recording tool is unique. Some screen recording software does not allow you to immediately export the captured video to sites like YouTube or store it in several formats.
Others might be able to accomplish all of that but lack one or more features. For instance, not all screen recording software includes an HD screen recorder.
Hence, before downloading or installing a screen recording software on your device, you should consider its capabilities.
It's also essential to assess your personal recording requirements. You might not need to record in HD. Perhaps you just bought video hosting and don't need the YouTube export option. The screen recorder that best suits your needs is the one you should use.
What is a Good Screen Recorder?
Our selection of screen-capturing solutions includes both desktop apps and browser-based programs. Each selection satisfies the following prerequisites:
Is simple to utilize.
Captures the full screen, a specific region, or a single window.
Allows viewers to add notes to the recorded video.
Audio from the system and the microphone.
Captures video from outside sources.
Include export options.
It's also important to note that a lot of the software choices support HD recording. So it's crucial to be aware that HD files take a long time to upload. HD is not necessary if you just want to swiftly post videos of regular quality to the internet.
Online Screen Recorder vs. Desktop Screen Recorder:
The main distinction between the two types is offline functioning.
Online screen recorders need a steady internet connection; desktop screen recorders can operate without a connection.
This is why using an online screen recorder to capture gameplay isn't the greatest option. Nonetheless, they ought to function just fine if you're merely trying to create a lesson.
Top 9 Screen Recording Software for 2023:
The top 9 screen recording software available are listed below.
You can be sure to find the finest screen recorder for Windows, Mac, Linux, Android, and iOS.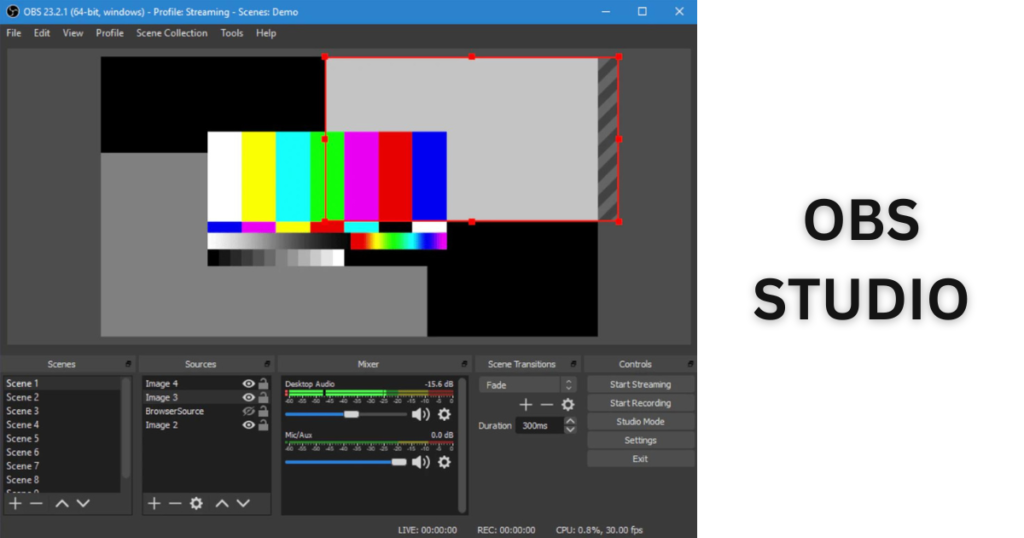 OBS, also known as Open Broadcaster Software, is a free screen recorder that provides high-definition recording and broadcasting with no time restrictions on your movies.
The desktop application gives you the ability to record the entire screen, but it also lets you select the area of the screen you want to capture.
You may generate videos with flawlessly recorded sound by using an audio mixer and customizable hotkeys to control the recording.
OBS has live-streaming functionality in addition to the user-friendly screencasting tools that you won't find in the built-in screen recorders of the most popular OS systems.
You may save projects, convert your film to FLV format, and stream live on Twitch and YouTube Gaming.
OBS is now among the top free screen recording tools to try in 2023 as a result of all of this.
Price: Free
Supported OS: Linux, Mac, Windows
Best for: Professional live streaming to Mixer, YouTube, or Twitch
For Android, iOS, Mac, and Windows, there are screen recorders in this group of software programs.
With the desktop recorder, you may concurrently record audio from your PC, mobile device, microphone, and computer's webcam while wirelessly casting an Android or iPhone to your PC's screen.
The desktop screen recorder provides a variety of recording options, such as full screen, custom region, and more, and it also enables users to make real-time annotations on the video. Without pausing, you can apply callouts, lines, text, and more.
All you need to do to start casting is connect your computer and smartphone to the same WiFi network and use the company's simple, mobile-specific software.
Users of Mac and Windows operating systems can immediately record all kinds of on-screen activity using the desktop screen recorder.
Price: $59.95 per year
Supported OS: Android, iOS, Windows, Mac
Best for: Demonstrating how to use software that has both a desktop and a mobile version
Webcam and screen recordings are supported by the online video editor and screen recorder Screencast-O-Matic.
The application is perfect for recording and sharing short movies because it offers options to record in 800600, 640480, and other conventional qualities even though HD recording is not an option.
Moreover, it helps users zoom, sketch, and add overlays to video files. Moreover, you can upload the recording to YouTube without downloading any desktop software.
Moreover, you can upload the recording to YouTube without downloading any desktop software.
Other features of Screencast-O-Matic include the ability to edit computer audio and sync recorded audio with video.
Remember that the premium edition of the program offers access to the majority of the editing features. But, you can submit content to YouTube using the free version.
Price: Free or $1.50 per month
Supported OS: Windows, Mac, Chromebook, iOS
Best for: Making quick tutorials to share with friends, customers, or online communities
An easy-to-set-up and use web-based laptop screen recorder is AceThinker.
You may use it to record a specific area of the screen or the entire screen, make in-the-moment edits for a compelling recording, and simultaneously record audio from your computer and microphone.
You can convert and store your recordings with the software in all popular video formats, including MP4, MOV, and API.
Also, you may directly submit your recordings using AceThinker to Dropbox, Google Drive, or YouTube.
The free version of the program includes all of these functions, but you can also upgrade to the PRO version to access many more features.
The PRO version's unique ability to allow you to plan tasks for screen recordings stands out among its features.
Install this screen capture program on your home computer, set a schedule, and let it record the screen automatically if you want to capture a live stream that is now playing in the afternoon but is unable to do so at work due to a lack of internet access.
Price: Free or $39.95
Supported OS: Mac, Windows
Best for Recording soccer matches, stock trends, etc.
You'd adore ScreenFlow if you've been looking for a Mac screen recorder with audio features.
Its capabilities include the ability to organize video elements and settings, record your Mac at retina resolution, and add background audio to the captured images.
You'd also adore the software's included "Styles" and "Templates" utilities.
For a recorded segment, styles allow you to save the visual/auditory preferences for specific features like drop shadows or color filters.
On the other hand, templates allow users to plan out groups of annotations like text placeholders and outro segments in advance and arrange, insert, and modify them.
For usage in all of their videos, subscribers to ScreenFlow's Super Pak edition (a more expensive plan) also have access to over 500,000 original images and audio clips.
So, ScreenFlow is unlikely to let you down if your goal is to maximize the value of your screen recordings.
Price: $129
Supported OS: Mac, iOS
Best for: Making high-quality retina videos
Another screen recording tool that utilizes Google Chrome is called Screencastify. Whether you're an experienced or inexperienced video creator, Screencastify has all the necessary features.
You may narrate to your microphone while using it to record your camera, the entire screen, or just one tab. Also, it offers annotation capabilities that can be used to help viewers stay focused on what's important. Included are click highlighting, the drawing pen tool, and the mouse spotlight.
Moreover, Screencastify will save the movie to your Google Drive automatically when you have recorded the screen.
The finest screen recording software solutions, including Screencastify, allow you to export the recording as an animated GIF, MP3, or MP4 in addition to uploading it to YouTube.
Price: Free
Supported OS: Mac, Windows, Linux
Best for: Recording software demos and creating solution videos
A powerful screen recording program that supports both screen and gameplay capturing is Bandicam.
It uses a high compression ratio without sacrificing the quality of the video. 120 frames per second 4K ultra-high definition video may be recorded using Bandicam.
The device recording ability of Bandicam is another interesting feature. You can record videos from IPTV, HDTV, APPLE TV, smartphones, PlayStations, and Xboxes by purchasing a separate capture card.
Moreover, users of Bandicam can take screenshots in JPG, PNG, and BMP file formats.
Practically anything may be recorded using Bandicam, including your full computer screen, Excel spreadsheets, web browser, Powerpoint presentations, and more.
The free version adds a watermark to the videos, so you must upgrade to a paid account to fully benefit from it.
Price: Free or $39.99
Supported OS: Windows
Best for: Balancing the depth of video recordings
With no time restrictions, Filmora Scrn enables you to record gameplay, webcam, computer screen, and audio all at once.
You can choose to record at a frame rate between 15 and 120. When recording gaming with lots of motion, a higher FPS is ideal.
For your audience's benefit, you may also add annotations like text using the software. Also, you can change your cursor's size, color, and form to give it a distinctive appearance.
You don't need a separate video editing program while using Filmora Scrn because it has a wealth of editing features built right in to help you perfect your video recordings.
It can import from more than 50 different file types, and you have the option to export your recordings in as many other formats as you need.
Price: Free or $29.99
Supported OS: Windows, Mac
Best for Recording screen from two devices simultaneously
On your PC, you can easily record and produce professional-looking films with TechSmith's Camtasia. You can record audio and video from a desktop or iOS device, as well as your camera to give your recording a more unique touch.
Camtasia excels in its integrated video editing program. The tool's sidebar has a good collection of stock photos as well as click-and-drag effects. By quickly placing them into their recordings, users can quickly construct outro and intro segments.
To improve the flow of your films, you may also add pan, zoom-in, and zoom-out animations to your footage as well as transitions between slides and scenes.
You can import or record PowerPoint documents directly into the environment of the screen recording software. Make your presentations stand out by including eye-catching titles, recordings, and other elements.
Price: Free or $249
Supported OS: Windows, Mac, iOS
Best for: Adding a professional touch to captured videos
For recording videos, use this free screen recording program. Your recordings are free from watermarks and time restrictions, and you have the option to save your clip as a GIF rather than a video.
ShareX's major selling point is its ability to share video files, which makes it simple to publish recordings directly to websites like YouTube and others.
With this program, you can easily improve the screenshots that you take. You can completely alter still photographs with the built-in photo editor.
In addition to being an excellent screenshot and screen capture tool, it can also record an entire scrolling webpage, capture and expose text via OCR, and schedule screen captures.
Price: Free
Supported OS: Linux, Windows
Best for Recording screens of Linux devices
The best screen recording programs can be used for a range of tasks, and they don't always have to be expensive.
Depending on your specific requirements and the operating system you're using, a free screen recorder might help you accomplish your goals.