If you think about it – is MozBar safe? As we know MozBar is a genuine web browser extension, and it's safe for use. It is available for the Chrome browser and Mozilla extension. Millions of users believe in it.
The information it offers includes insights on the link profile of a webpage & domain, such as Domain Authority or the number of backlinks, as well as on-page metrics essential to SEO, such as the contents of a webpage's title tag, alt text, meta robots, etc. The great people at Moz built MozBar.
How to Create a MozBar Account for Free?
You can create an account for free on MozBar easily. You need to follow the given instructions:
Step 1: Go to the official website on www.moz.com and click on the Signup button. And fill in the required details.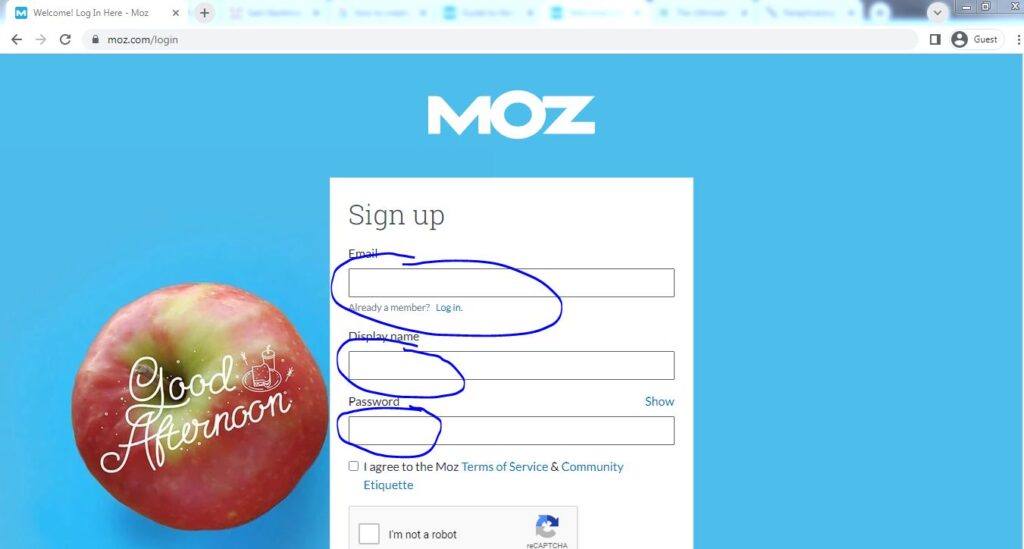 Step 2: After that, you receive a activate link in your respective Email box. Click on activate link or button and get a verified account.
Step 3: When you get verified your account you can log in to your Moz account by filling in the details.
How to Set up MozBar?
Follow these easy steps and set up your MozBar tools in your Chrome or Mozilla extension.
Step 1: Visit the official website moz.com
Step2: Click on the button "download MozBar for free"
Step 3: Nest, click the "Add to Chrome" button.
Step 4: After installation login to your account.
Step 5: The MozBar icon shows on your browser's top right-hand side corner. Click on the icon and enable it. The icon will be blue when enable it.
Step 6: Go to your browser setting and enable third-party cookies.
Now, your Mozbar extension is ready for use.
How to Use Mozbar?
The MozBar is the best SEO tool for website analysis. Anyone can use this tool. This tool has given your keywords, backlinks, sitemap, metatags, and more than data and an action bar for the website.

After login your account you need to click on "Free SEO Tools" and go to the list of metric data research for:
1. Competitive Research
In this section, you can find your competitor's data from the website and beat them on SERPs. You can check their keywords, tag, strategies, and other data. Analyze the keyword gaps and opportunities for improvement. You can do competitor research involving keyword targeting, content gaps, and SEO analysis.
2. Link Explorer
In this section, you can put your/competitors' domain/URL and get data about Domain overview, inbound links, linking domains, anchor text, top pages, discovered and lost links, compare link profiles, and check spam score.
3. Keyword Explorer
The mozBar section has one more option for keyword explorer. In this option, you can check all about keyword overviews based on your target country. You need to put your keyword in the search box and get the data about keyword overview, keyword suggestions, and SERPs analysis.
4. More Free SEO Tools
Keyword Explorer, Free Competitive Research, Link Explorer, MozBar, My Online Presence, Free Domain Analysis, and MozCast.
How to Work Mozbar?
This tool basically works based on Google algorithm data. Which are collecting data to any website from SERPs. When you put the URL the data is fetching and shows the results. You can check backlinks, external links, internal links, domain ratings, domain authority, spam score, SERPs analysis, competitors' analysis, and on-page elements.
How to do you Disable MozBar from the browser?
MozBar tool easily enables and disables from the browser. You can disable it if you don't want your Moz extension to last any longer.
You just need to follow these steps and get it done:
Step 1: First go to the browser top on the right side and right-click on the Moz icon.
Step 2: After that, go to the option "Remove from Chrome" and click.
Now MozBar has disabled your browser.
Mozbar tool is both free and paid tools but there is some different service available.
1. MozBar Free Tools Service
If you have used a free account then you can get only limited data from the Moz service as limited backlinks check, limited keyword research, limited competitor data results, and more.
2. Mozbar Pro Tools Service
If you want more than data from this tool then you need to activate Pro services on MozBar. In the pro service, you can get unlimited data results from the SERPs.
Pro Charges: Pay Monthly ($179/month) and, Pay Yearly ($143/month paid yearly)
How to Get a Moz Membership:
You can get full excess data from the Moz tools when you get pro membership paid monthly or yearly.
Follow the given steps and get pro membership:
Step 1: First you need to go pro section and click on the Moz Pro button.
Step 2: After that, you need to fill in the all required data about your payment/billing address. Once you fill in the all data and submit the button you now have an excess of the pro data on the MozBar.
If you need some more help with your SEO strategies and want to generate more leads, this article may help you in the future. For more SEO tools keep in touch with us and get updates. Thanks