Are you confused to post on Instagram? These top 10 Instagram content ideas 2023 will help you to post as per your experienced and keep followers engaged.
All you can find when you go through your camera roll for anything at all are roughly one million pictures of your dog, cat, baby, or food. Not exactly the type of content that inspires on Instagram!
You must continuously share material that is of high quality and aligns with your brand's style and voice if you want to increase your impact on Instagram and stand out. There is no denying that occasionally our creative imaginations hit a wall or our schedules become so busy that we don't have time to quickly come up with Instagram post ideas!
The good news is that you can schedule Instagram posts and create captions and hashtags using a variety of tools (hello: Plann). Additionally, they ensure that you consistently provide new content for your fans to like and share with their friends.
Top 40 Instagram Content Ideas 2023: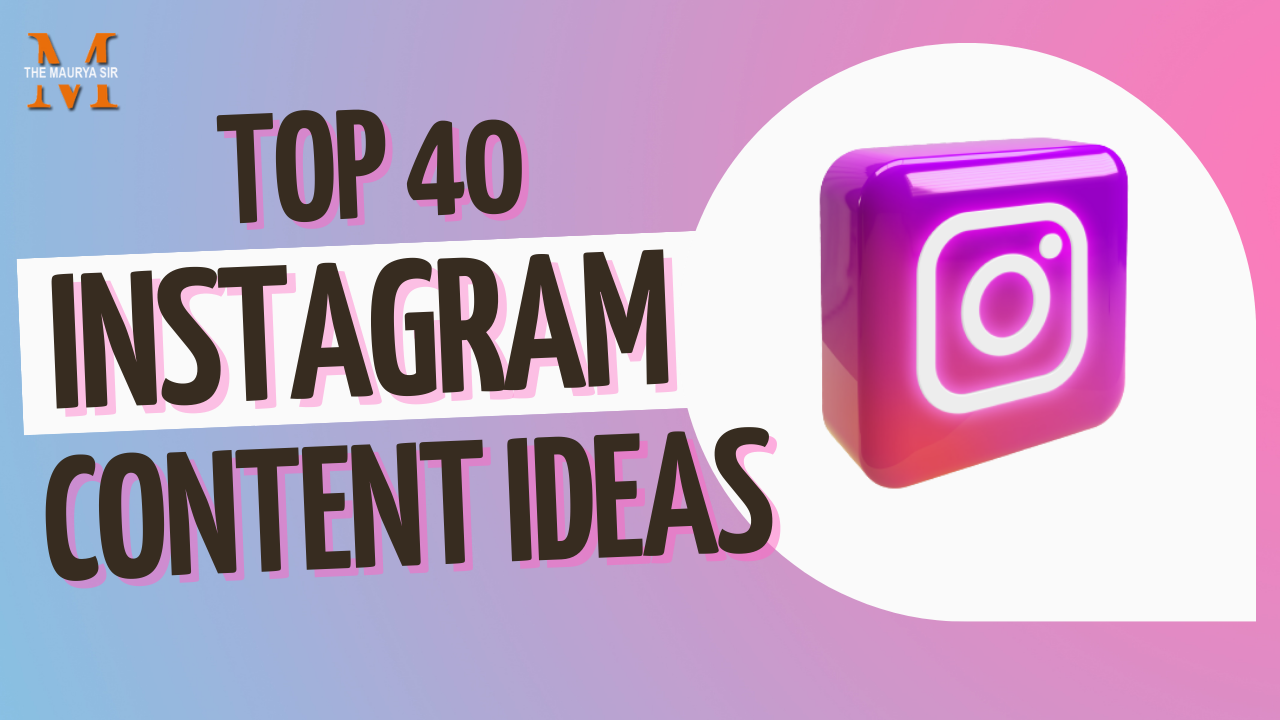 Here are 40 incredible Instagram post ideas that you may bookmark for when you're seriously struggling with inspiration. Do you want to quickly jump to the most relevant topic? Here is a list of the best Instagram posts to make:
A tutorial
Inspire your followers to get outside and get moving
Your favorite holiday
Flay lay what's in your bag
Your morning routine
What you had for breakfast
Your work-from-home situation
Your outfit
Your flavor of the month
Design a cocktail that your brand would drink
Flowers
Latest apps you've found
Something that inspires you
Your DIY projects
Inspiring quote
Your Sunday morning
Sneak peek
Ask a question
Hold an impromptu giveaway
Deconstruct your equipment and design a flat lay
Your cute pets
Post white space
Sunrise or sunset
Find an 'Instagrammable wall'
Share something you've learned recently
Your book recommendation
Real talk
Your go-to coffee (or tea!)
The pizza you ordered just for you
A productivity tip
A bird's eye view of your shoes or flooring
The interior of your favorite shop
A photo of you
An educational carousel
An IGTV on a topical issue
Post someone who inspires you
Share work in progress
Poll your audience
Client review/testimonial
Pic of your product/service
Instagram Content Ideas #1: A Tutorial:
What could you impart to your audience in a single image? Are you, for instance, a beauty blogger? The power of eyebrows! Ask any female who doesn't have flawlessly groomed, bushy brows, and you'll realize how crucial it is to learn the technique of brow makeup. A tutorial is one of the best Instagram content ideas for 2023. To connect with your audience on a helpful level, share your advice on using your preferred items.
Instagram Content Idea #2: Inspire Your Followers to Get Outside and Get Moving:
Did you realize that physical activity can have a significant impact on our brains? Just 30 minutes a day can boost your mood, increase memory capacity, reduce anxiety, and improve cognitive performance, yeow.
Our lives are increasingly dominated by technology, which for the majority of people means spending more time in front of screens. Please encourage others to incorporate it into their everyday routines by setting an excellent example.
Instagram Content Ideas #3: Your Favorite Holiday:
Relive your most memorable holiday moment. the next time you're stumped for an Instagram post, upload several pictures from your favorite travel destination. It's a terrific method to reuse existing information (and a great excuse to look over your vacation photos!).
Because a lifestyle is what Instagram is mostly about, pick a place that made you joyful.
not recently taken a trip? ROADTRIP!
Why not consider organizing a trip to the beach? People are often cheerful around the ocean. (Illustrations of the ocean are well-known to be popular for proposals!)
Instagram Content Idea #4: Flatlay What's in Your Bag:
A nicely organized view of what's in your bag, or "The Bag-Spill," can reveal a lot about your personality, your must-haves, and your way of living in general.
We're thinking: your work bag, gym bag, purse, clutch, artist bag, beauty bag, or even what's in your new shopping bag to get your creative juices flowing! On Instagram, flat lays are a quick and useful "go-to" option.
Instagram Content Ideas #5: Your Morning Routine:
Many people are aware of the need to prioritize self-care more; when they witness others making time for themselves, they will be inspired to do the same.
Do you get up and spend some "me time" or do you pick up your phone and check your Instagram direct messages?
If you share with your audience how you establish your daily intention, you may inspire them or, if you're a workaholic like us, you may provide them with insight into what you intend to improve.
Instagram Content Idea #6: What You Had for Breakfast:
Not only are breakfast items great to eat, but they're also beautiful to look at, especially if you photograph them expertly!
The key to this picture is excellent styling, composition, and lighting. If you can manage to include your hands in the picture as well, we've found that they increase engagement – never underestimate the power of human connection!
Great advice is to take a picture from a bird's eye perspective, so prepare to carefully ascend that chair, of course!
Instagram Content Ideas #7: Your Work-From-Home Situation:
Try posting a picture of your workstation with a motivational remark to make your followers like Mondays a little bit more.
Instagram Content Idea #8: Your Outfit:
We immediately go to Instagram and seek #chicoutfits when we need to seem completely professional or office-chic. Pose and upload your OOTD to Instagram if your office attire game is good.
Instagram Content Idea #9: Your Flavor of the Month:
This one you can add to your Instagram content ideas list Are you fixated on a brand-new camera, your most recent Pottery Barn home décor buy, or the fact that you found three pairs of Bonds socks for less than $3? Woo! Tell us about the product that has you so pumped.
A Plannocolada would you like?
Instagram Content Ideas #10: Design a Cocktail That Your Brand Would Drink:
Create a drink or cocktail and give it a creative name that reflects your personality or the personality of your company.
Cocktails are a great way to celebrate the end of the week, but they're typically consumed in dim settings with warm lighting that makes them less effective than we'd like. When taking pictures indoors, always check your lighting.
(Spoiler alert: this won't look well on your Instagram feed. How about a boomerang advertising the festivities for the week's end? If it's true to the brand, bonus points!)
Need assistance using Instagram's more recent features? Here are some things you ought to share on Instagram Stories!