Both marketing channels and trends change throughout time. Email is one of the channels that have largely kept the same even though some trends come and go quickly. Email is still the most effective channel for content marketing, according to both B2C and B2B marketers. It is used to nurture audiences by 87% of B2B marketers and 77% of B2C marketers. In this blog, we are going to discuss free email marketing tools in 2023.
Even your other marketing platforms, like social media, may benefit from its amplification. Despite this, email marketers continue to encounter numerous difficulties. The time it takes to design a beautiful email from scratch is one of these major difficulties. Marketers risk wasting a lot of time developing and sending emails that don't exactly look stunning if they don't have effective tools. This reduces productivity and lowers the return on investment for your email marketing.
Top 9 Free Email Marketing Tools: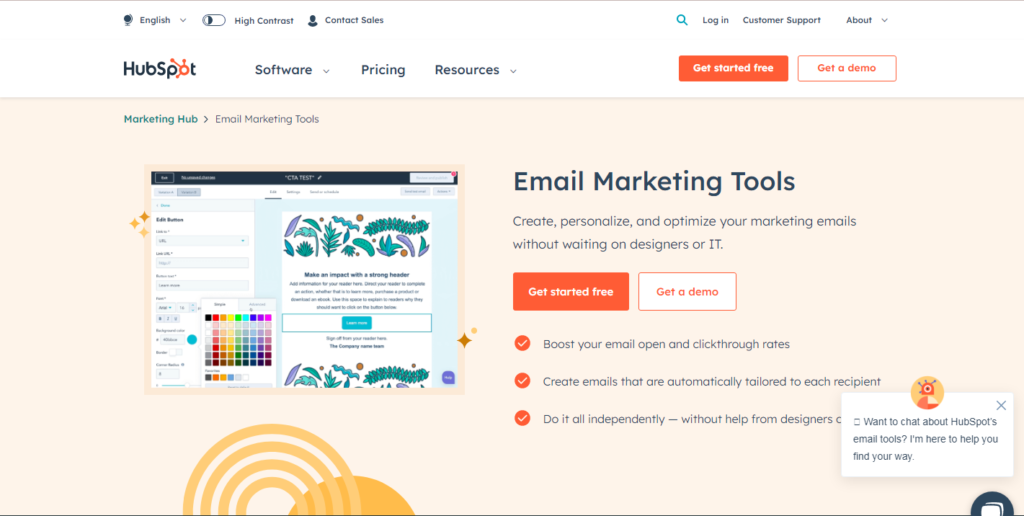 HubSpot, which is arguably best known for its marketing automation platform, just introduced a free email marketing solution that may meet many of the transactional email requirements of a small business.
This HubSpot Email Marketing's free edition can be used to send kickback emails from lead offers, thank you emails following purchases, or simply to advertise existing campaigns. The simplicity of use of HubSpot's free email tool is one of its strongest features. The program has a convenient drag-and-drop visual editor and pre-made templates to help you get started right away.
Naturally, the natural integration of HubSpot Email Marketing with other HubSpot technologies, including the free-for-life CRM, is what sets it apart. Once you register an account, you have access to both tools, allowing you to manage and track email performance as well as construct a consolidated contacts database and organize it into lists.
One of the top free email marketing tools available, Sender has capabilities to guarantee deliverability. It enables HTML-illiterate users to produce visually appealing newsletters. Simply select a template and add components like photographs, videos, and text to make it your own. To make an even greater effect, you may even make your emails personalized for each reader.
One of the main reasons Sender is on our list is because of its powerful analytics function. You may use it to keep track of things like who opened your emails, when they were opened, and who clicked on the links. It even enables you to create precise buyer profiles based on the behaviors of your subscribers, enabling you to improve your current email marketing approach and create offers that are appealing.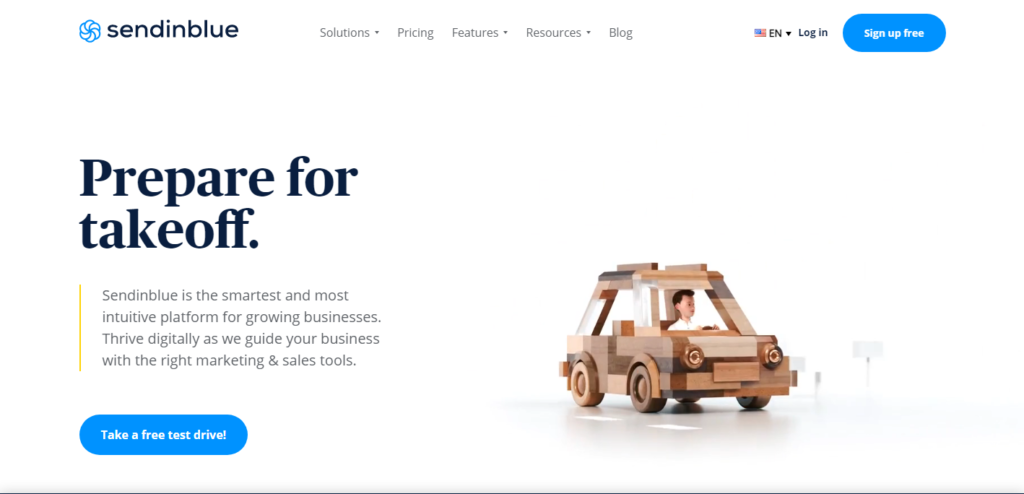 A platform for marketing communications called Sendinblue includes tools for email marketing in addition to other features like building landing pages and managing client relationships. Sendinblue's email design features make it simple to produce a beautiful email with their selection of over 70 design templates. Also, each of these templates is responsive, and you can examine the results before publishing to be sure your design will appear as you intend it to on any screen size.
After creating your email, you can use tools like A/B testing and segmented recipient lists to eliminate the guesswork and human labor involved in campaign optimization and audience targeting.
Related Articles:
Digital Marketing Tools to Enhance Your Brand's Online Presence
Top 100 Profitable Blog Niche Ideas | How to Choose the Right One in 2023
Top 9 Digital Marketing Tools 2023
What is ChatGPT and its Importance for SEO?
How to Install SEOquake Plugin Extension for Chrome?
All of your communication platforms are integrated into Omnisend, a smart e-commerce marketing tool. Only email is included in its free plan, but it is more than enough to support small and medium enterprises' email marketing campaigns. It enables you to effortlessly time your communications based on the convenience of your customers and automate email distribution using behavioral triggers.
You can send out more pertinent email marketing campaigns by utilizing its thorough audience insights. Use time-saving tools like the Product Picker, which allows you to choose all the products you wish to include in your email, to create eye-catching newsletters. To further improve the effectiveness of your emails, you can also include gift boxes, scratch cards, and discount coupon codes.
Although SendPulse promotes itself as a multi-channel marketing platform, email marketing is still the most widely used function. There are numerous expertly designed email templates included with it, and a drag-and-drop editor makes it simple to alter them. On the basis of user behavior, an event trigger, and other factors, you can then configure these tailored emails to be automatically sent out at the appropriate time.
The SendPulse subscriber rating feature is a great tool for determining which of your subscribers are worth the most. It enables you to examine each subscriber's open and click rates as well as their read and unread rates. You may also specify replaceable text fields to add your name, gender, age, work title, and date of birth to your emails.
To create responsive emails that look beautiful on any device, Benchmark Email is a fantastic alternative for an email marketing solution. You can even alter the image on the platform if you need to include it in your email as an attachment. To effectively convey your message, you can add effects, stickers, and text using the email editor.
You can select from a huge selection of pre-designed templates according to the type, industry, and occasion. For those who are more knowledgeable about HTML, you can create emails from scratch using the code editor. The dual view feature makes it easier to create emails by allowing you to see your email design while you update it.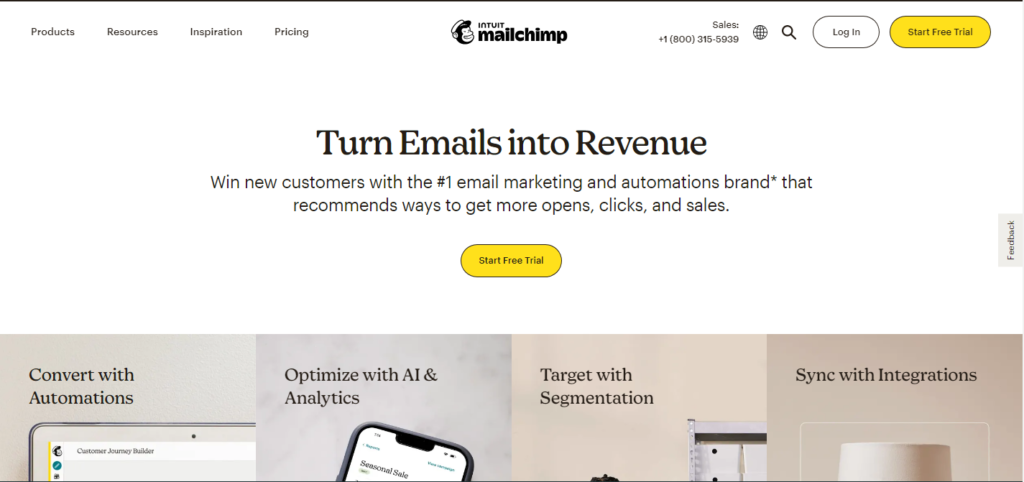 You've probably heard of Mailchimp, one of the best email marketing solutions available. You may create and schedule emails as part of their basic email marketing services. These tools are included in their free plan. Its smart recommendations function gives you useful audience insights to maximize your marketing efforts. It all makes this an excellent email marketing tool.
Using the Content Manager, where you can save your images and files for fast access, makes designing emails on the platform simple. You can simply send out welcome emails, order confirmations, reminders about abandoned carts, and others. Automating your emails in Mailchimp at key points in the customer experience.
MailerLite stands out from other free email solutions available on the market. Its sophisticated features like the pop-up customizer and landing page builder. The tool has a powerful text editor and an integrated photo editor in addition to the essentials. These tools help in drag-and-drop email builder, allowing users to produce eye-catching emails.
Your chances of generating conversions will increase if you design responsive landing pages that go along with your emails. To determine which iterations of your email generate the most clicks and conversions, you can perform split tests on them. Moreover, MailerLite gives you access to a thorough campaign report. That includes vital data like click rate, unsubscribe rate, open rate, and more.
You may create successful email marketing campaigns using the tools provided by Mailjet, which are user-friendly and collaborative. Create adaptable emails by customizing any of the pre-designed templates to wow any recipient regardless of the device they are using. The platform's real-time collaboration function, which enables seamless cooperation, would be appreciated by team workers.
You can also include dynamic content with this email marketing tool to produce emails that are tailored to individual recipients. This enables you to significantly improve the outcomes of your email marketing campaigns. Also, you can effortlessly manage your email list through a single dashboard by integrating the platform with your CRM.