Search engine optimization (SEO) calls for a holistic approach that includes investigating the competition, determining which keywords can generate traffic, developing a plan for creating external and internal links and improving page loading times. We are going to discuss on best AI SEO Tools which are mentioned below.
SEM Rush is at the top of our best ai SEO tools list for a number of reasons, including those listed below.
This robust platform provides a number of tools that can take the place of the features of other products like Google Trends, MOZ, Hootsuite, and SimilarWeb.
Some of the tools that are offered include:
Traffic Analysis: Compare your website traffic to that of your rivals to determine where you stand. To determine your next plan, look at their expected total traffic, top traffic sources, bounce rate, time on page, and more.
Keyword Research: Researching keywords should be your main priority when it comes to SEO. Find opportunities to compete against your organic search rivals by researching them. Discover the significance of the precise keywords they are ranking for and draw attention to any gaps that even your competitors may be missing.
Keyword GAP: The ideal technique for new websites is to pursue long-tail keywords because it can be challenging to compete for the most obvious keywords. Legacy market leaders frequently ignore these search phrases. With the help of this tool, you can analyze the keyword strategies of up to five competitors side by side and identify any holes you may begin to fill.
Backlinks Analytics:
Backlinks continue to be one of the most crucial factors in website ranking. With the help of this tool, you can find fresh prospects for backlinks to your own website. To view all of your competitor's backlinks, simply enter their website. Then, identify their top referring domains, use filters to uncover particular websites, and even identify their most recent backlink gains and losses. With this knowledge, you may learn how your competitors are obtaining backlinks and the kinds of articles that attract these connections and develop a plan to do the same.
Position Tracking: In the past, you required specialized tools just to monitor your current position for a variety of keywords on Google. With this information, it is advised that you concentrate on pages that are ranking anywhere between position #6 and #20, and work on optimizing the pages for those keywords. This platform has a time-saving function. The website's content can be improved to increase user conversion and retention rates.
Writing Assistant: These tools can help to make sure that the material is Google-friendly, while you should always create content with the user in mind. Direct integration with your Google Documents or WordPress account is possible.
Content Audit: One of the most underused capabilities of this platform is the ability to audit your content assets and automatically divide them into sets for future development. Use data from Google Analytics, Search Console, and SEM Rush to identify sections that need to be updated, revised, or eliminated.
The Jasper is widely regarded as the best all-around best AI SEO tools writing assistant, dominating the industry with its outstanding features and caliber. This tool – Jasper creates phrases, paragraphs, or papers based on the subject and tone of speech once you give it a set of seed words to examine. It can finish an article of 1,500 words in about 15 minutes.
More than 50 AI content production templates are available on the platform, including those for blog posts, emails, marketing text, Facebook ads, Google ads, meta titles and descriptions, press releases, and much more.
Best Features of Jasper
More than 2,500 kinds of writing styles and 11,000 free fonts
25+ languages are supported
logical interface
Long-form writing supporter (1,000 words or more)
Recognize important textual components (pronouns, verbs, names, etc.)
Business owners must be able to tell when writing is produced by AI because of the prevalence of writing tools like Jasper and all of the AI writing tools that use variations of GPT 3 and GPT 3.5. This issue is resolved by Originality.ai, which can analyze an entire website for AI-generated content or plagiarism in a time and money-saving manner. For content publishers who employ writers but are concerned about whether the content is produced by AI or is plagiarised, this is the ideal option. Read about other best AI SEO tools ChatGPT.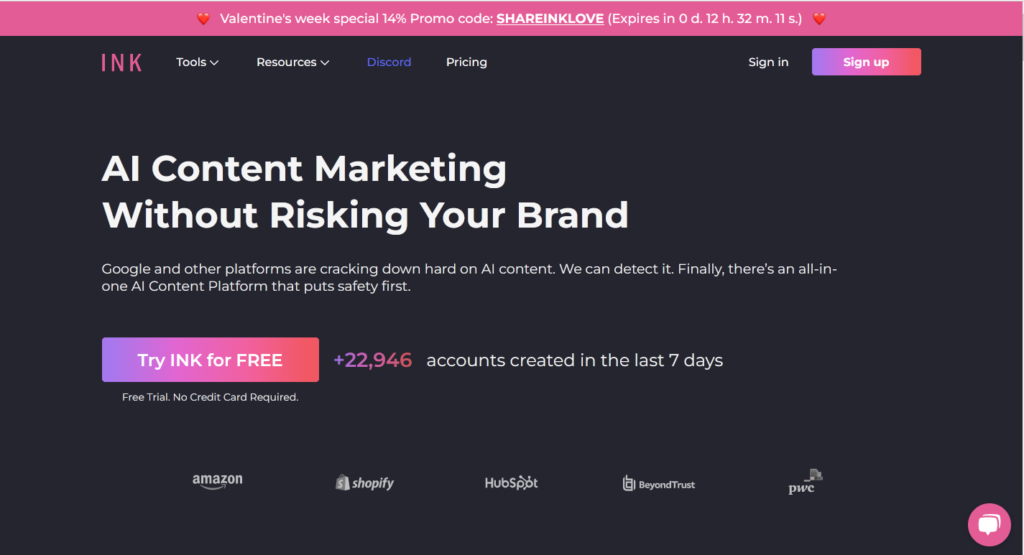 To assist you in creating content, INK Editor combines AI co-writing with an SEO assistant. You can produce content using the Assistant feature of the application that will rank highly on search engines and generate organic traffic. This is accomplished using a patented AI system that analyses content in real-time and makes recommendations to raise ranking scores.
The other key element, AI Co-Writing, aids in producing compelling copy. Users can write, rewrite, and simplify sentences with the AI's help.
Main Features of INK Editor
Meta optimization
Image optimization through compression and resizing
Spelling and grammar correction
AI-Writing, AI-Simplifying, and AI-Expanding functionalities
Integrates into WordPress
Knowing your current ranking in real-time is one of the hardest parts of SEO. Manually searching on Google wastes time and exposes you to the possibility of receiving inaccurate tailored and localized results.
With its strong tools, this is the greatest tool available to swiftly identify your present ranks. This tool using for Ranks Tracking, Ranking Analysis, and Reporting.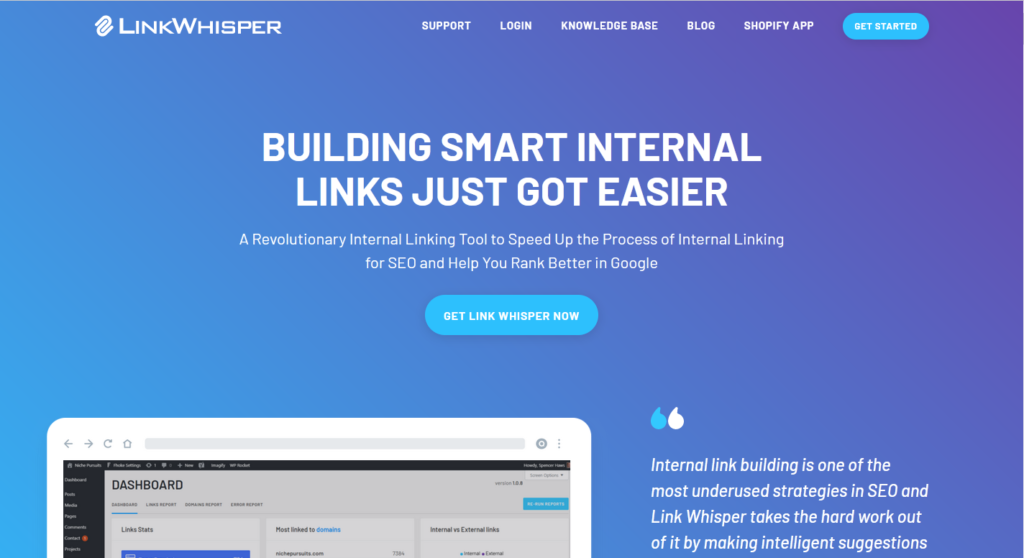 Offering the optimal user experience to visitors requires linking to relevant material as part of internal link building, a critical SEO tactic.
This is a ground-breaking connecting tool that will expedite internal linking. When you begin writing your content directly in the WordPress editor, Link Whisper begins recommending pertinent internal links. It is powered by AI.
Link Whisper will offer hundreds or more internal links from the material you are editing, depending on how many articles you have on your site and the relevance of your current content.
Check the box, then click Save. There are internal links. This saves a ton of time.
One of the most important factors in Google ranking since at least 2017 is how quickly your page opens. This is crucial, especially for mobile users, as I covered it in great detail in my SEO optimization guide. it is one of the best AI SEO tools for website speed checkers.
Google offers website owners this free tool to examine how Google rates their page loading speed. You won't be removed from the search results if your website is Green and you pass:
Regrettably, if you fail, you must start working immediately to fix the problem. The three metrics you should pay attention to are:
First Contentful Paint
Largest Contentful Paint
Cumulative Layout Shift
The above-the-fold content is the first piece of material displayed when a page loads. How long does it take for it to finish loading in microseconds?
The most extensive content the moment the largest word or image is painted is when the paint is applied. At this point, image size optimization takes precedence.
While the website loads, visible items within the viewport move around, measured by cumulative layout shift. You may have personally experienced this when you started reading something on a page only to have it shift on the screen. This can irritate users.
Understanding the significance of page loading speed optimization is crucial, especially to pass Google PageSpeed Insights – Nitro Pack is the programmer that makes it possible to do so. It offers everything you require in one location for a quick website. A CDN and other features like caching are ready to use right out of the box.
Image Optimization
Preemptive picture scaling, WebP conversion, lossy, and lossless image compression.
Advanced lazy loading (including background images specified in the CSS), and (when supported by the browser).
Picture sizing that adapts.
Code Optimization
HTML, CSS, and JS magnification & compression;
Critical CSS, DNS prefetching, preloading, and more.
GZIP and Brotli Compression
Loading Optimization
This tool is generally used for generating content:
Outline Builder: Utilize the integrated outliner to organize your information into a thorough outline that includes distinctive potential headings and questions.
Topic Discovery: Find dozens of pertinent topic clusters quickly, allowing a strategy to focus on various keywords.
Keyword Volume & Search Intent: Look into the search intent for your intended audience, and quickly assess the monthly search volume and keyword difficulty. The Google Keyword Planner by Google does provide this feature for free, however, our application is simpler and less irritating to use.
Internal Content Structure: Using real-time word count and structural measurements, this is seamlessly optimized.
AI Writing: Make the most of Surfer's capabilities to produce well-researched, superior articles.
AI Content & Plagiarism: The built-in plagiarism and AI content checker is a crucial tool if you want to avoid fines, as some affiliates may choose to rely on AI-generated content, which could lead to a Google penalty.
Neuraltext seeks to use AI to manage the entire content creation process, from conception to completion.
It functions as a keyword research tool, content tool, and AI copywriter.
AI copywriting tools will enable you to produce dozens of variations of successful copy for your campaigns. More than 50 ready-to-use templates are available (Facebook ads, Slogan ideas, blog section writing, and so on).
Using the information from pages that already rank on Google, content tools will assist in producing well-researched content. It functions as follows: enter a term, and the programmer will automatically retrieve the top 20 Google Search results, providing information on possible keywords to use, subjects to cover questions to address, and statistics.